Two Interview Thank You Letter Samples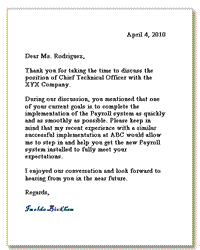 The following interview thank you letter samples can be slightly modified to an email format by changing the salutation and closing.
Thank you emails tend to use a slightly less formal tone.
Letter Sample 1
Dear Ms. Rodriguez,
Thank you for taking the time to discuss the position of Chief Technical Officer with the XYX Company.
During our discussion, you mentioned that one of your current goals is to complete the implementation of the Payroll system as quickly and as smoothly as possible. Please keep in mind that my recent experience with a similar successful implementation at ABC would allow me to step in and help you get the new Payroll system installed according to your expectations.
I enjoyed our conversation and look forward to hearing from you in the future.
Letter Sample 2
Dear Mr. Jones,
Thank you for taking the time to discuss the position of Grant Writer with the University of ABC.
On my way home, I reflected on our conversation and couldn't help but conclude that I'm a perfect fit for the position you are trying to fill. Having won and managed so many significant grants for two other universities in the past would allow me – very quickly – to raise the funds the University currently needs to complete the Chemistry Lab upgrade and the new Library.
It was a pleasure discussing what the University is doing and planning to do, higher education has always been very dear to my heart. I sincerely hope that you consider me eligible for the next step in the recruitment process.
---
As you can see from the samples, an interview thank you letter is short. It can include a paragraph that gives additional reasons to the interviewer to view you as a good fit for the position being filled.
Before you write the letter, ask yourself if this is a job you want. Now that you've gone through an interview with someone that works at the company you want to work for, ask yourself if you liked what you saw and heard. If you did, then your heart will provide the needed inspiration for you come up with the words to tell the interviewers how you'd love to work there.