Workplace Communication FAQ
This list of Workplace Communication FAQs and answers will grow over time with my contributions and yours.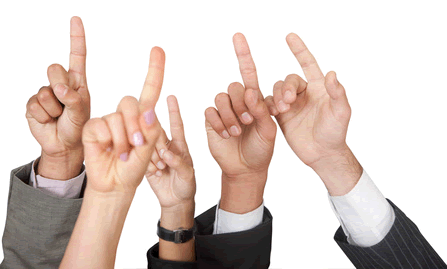 If you don't find the question that applies to your specific situation, just send your question in, I'll answer it separately and add it here.
If you prefer to do this anonymously, just leave the name and location fields blank.
How do I ask for a raise?
This article about the
Mistakes to Avoid When Negotiating a Pay Raise
can help you prepare to ask for raise and get it.
Remember Woody Allen's quote "80% of success is showing up". Paraphrasing that: "80% of getting a raise is asking for it".
I've been promoted and now I lead a group of people that used to be my co-workers. How do I talk to my former peers now that I'm their boss?
Before, you were a co-worker and perhaps a friend, now you're a boss and perhaps can remain a friend.
These are separate roles that can't be played at the same time. So play the role of supervisor/manager (firm, direct, fair, and so forth) while at work. If you're also friends, be just a friend during off hours, don't start bossing your friends around while socializing.
Even if you can handle the change, your former peers may not have an easy time with the transition. Some may feel jealous about your promotion and think they were more deserving than you. Some may start anticipating that power is going to your head and behave accordingly.
A good step to take is to have an open conversation with them, where you let them know that roles have changed but that won't change who you're and who they are. Ask for their support and let them know you plan to support them as well.
I'm having communication problems with my boss, how do I go about solving them?
Check out this article on Upward Communication to learn more about the various types of interactions that one has with a manager, learn about where interactions can go South and how to straighten them.
My coworkers are spreading rumors about me that have some truth to them, how do I ask my coworkers to stop?
While there is not a guarantee that you can stop a co-worker from spreading rumors about you, you can still try. You don't lose anything by trying and you may get the rumors to stop.
Check out this article for more specific ideas on how to stop rumors at work.
A big factor that helps you stop rumors is the authority you may have over the rumor mongers. If you don't have any, you can seek the help of your manager. He has an interest in keeping the rumor mill under control, so he may be a good person to enlist in helping you stop your coworkers from spreading rumors about you.
A member of my team is not doing her job, I'm tired of covering up for her but I still want to be a team player
Being a team player doesn't mean you have to cover up for other team members.
It's pretty dicey to tell on team members, but it's just as dicey to cover up for them. You end up resentful and self-righteous.
You have to confront the team member that is not pulling her weight and let her know that you were covering up for her but you can no longer do so, because you're starting to resent it.
Let her know you want to preserve the relationship, but not at the cost of covering up for her. Ask her to take responsibility for her part in the team.
This confrontation frees you up to do whatever you think is the right next step. It also frees her up to step up to her responsibilities as a member of the team.
You don't have a way to know what her reaction might be, but you have done your part.
My boss seems to be blocking me from advancing, should I go to his boss to ask for a promotion
This is a tough question because there's no way to know if your boss is indeed blocking you and his reasons for doing it. You'd have to be 100% certain that your boss is "blocking" you before you go his boss and ask for a promotion.
To find out, ask your boss for direct feedback on your performance, and where you stand in the organization. Tell him that you'd like to advance and need to know what it would take to do so. Tell him you want to know what exactly you need to do to get promoted.
If his answers are vague regarding your performance and what you need to do to get ahead, there's is a possibility he may be blocking you. Still not 100% certainty.
If his answers are specific as to what you need to do to get a promotion, then it's unlikely your boss is "blocking" you. Don't go to your boss' boss, just heed what you boss is telling to get ahead.
Have A Question About Communication at Work?
Do you have a question about communication in the workplace? Send it in!
What Other Visitors Have Asked
Click below to see questions from other visitors to this page...