Retirement Gift Etiquette
by Anonymous
(California)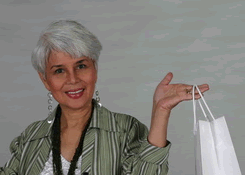 I'm a CXO at a medium size company. I need some help with retirement gift etiquette. My boss is retiring in a month and I want to give him a memorable retirement present.


When someone retires, it's customary in my department to circulate an envelope with a card, where everyone writes their retirement wishes and adds a few dollars to contribute to a departmental gift for the person retiring.
I've noticed that employees don't contribute much when the envelope makes its rounds. I'd say their contributions average $3 per person, tops. I don't want to appear cheap to our boss presenting him with a departmental retirement gift of less than $200 (there is 60 people in the department).
I want to ask the staff to increase their contribution to $30 per person, so we can give my boss an $1800 gift.
I don't want to pressure the staff, so what is the right way to ask them for a larger contribution for my boss' retirement present?
name witheld
Imelda's Answer
There is no right way to ask your staff to help you pay for a gift to your boss.
You don't want to appear cheap to your boss, but you risk appearing cheap to your staff if you ask them to ask for a large contribution to your boss' retirement gift.
Your heart is in the right place, you feel appreciative to your boss and you want to show it, but it's up to you - not your staff - to foot the bill.
Some employees in your staff may feel very appreciative to your boss, and they will undoubtedly contribute more than $3. Others may hate your boss' guts and may even be tempted to take money out of the envelope.
My advice is to circulate the envelope as usual, and just add (from your own pocket) whatever you feel your boss deserves as a departmental retirement gift.
Your boss and your staff will never know how much you added, and that's what you want.
Imelda
P.S. You may also consider getting your boss something inexpensive yet cool and personal. Perhaps that will be just as memorable as an expensive retirement gift.