sending the wrong signals during conflict/communication
by June Rafeal
(The Netherlands, )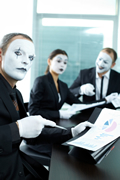 Hi,
I keep having a re-occuring problem.
My co-workers interpret my communication as aggressive or hostile whereas I am just naturally passionate and expressive when I talk. I use lots of guestures, varying tones etc. ( I used to act a lot).

I am a teacher and can get along fine with my students and want to get along well with my colleagues as well. I'm starting a new job and want to get off on the right foot.

Please can you give me some advice, hopefully not along the lines of talk softly and keep your eyes on the ground at all times, as that really is not me. I'm a decent person, I like other people, they just think I'm angry when I'm not, please help!


Imelda's Response
You asked me not to tell you to talk softly and look down. I won't . That would be a ommunication style that's not only not-you, but almost useless in the workplace.
However, I will ask you to use your acting skills to tone down your expressiveness a bit. As desirable as being expressive is, if you've found that it gets on people's nerves, it may be too much and you may be better off repressing it a bit while at work. Let's face it, most workplaces are not exactly places where one can be totally self-expressed and passionate.
You mention that you get along with your students, that's quite a feat and should give you hope that anything is possible and that you can get along with colleagues. Just ease up on the exuberance or find a place that embraces it.
P.S. Note: My response is late :( I hope not too late...
I apologize for not responding earlier, I have been away from the site due to personal issues that took my entire focus and time. I'm sorry.