Effective Communication Blog
This blog is a mini-journal about improving communication in the workplace.
In this blog you can also find out what's new here at people-communicating.com, without having to search through the site to find the new material.
To subscribe to the
Effective Communication Blog
, right-click on the orange RSS button to the left, and paste the URL into your RSS reader. Or just click on the Google, My Yahoo!, My MSN, or Bloglines button right below the orange RSS button, if you keep a personalized home page there.
Once you subscribe, you can keep up with all the updates to people-communicating.com without having to check the site every so often to see "What's New". New pages and updates to old ones are released through RSS.
And the best part is, there is no need to give out your email address to receive RSS feeds.
Peer Acting Like a Boss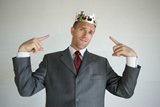 When your buddy is bossing you around, what can you do?
At first blush, we may conclude your peer is out of line and in need of severe punishement, but this is not always the case.
Let's figure out when it's ok for you to take orders from your peer.